Conference 2019
SAVE THE DATE!

The 13th Annual TnCIS Conference
13th Annual TnCIS Conference on International Education
Breaking Down Barriers: New Paradigms in International Education
Friday, November 8, 2019
Sponsored by:
Tennessee Consortium for International Studies
Co-sponsor:
Walters State Community College
Sevier County Campus
Sevierville, Tennessee

Join us for the 13th Annual TnCIS Conference on International Education! Conference attendees can network, share information, learn from each other, and gain valuable skills in international education. Our theme for 2019 is Breaking Down Barriers: New Paradigms in International Education. This theme encourages our members to continue making international education inclusive and accessible for all students in our state.

New this year, the 2019 conference will have an opening reception on Thursday, November 7th. The keynote address and conference sessions will take place on Friday, November 8th at Walters State Community College Sevier County campus for one full day. Join us in Sevierville this fall! Details will be updated on this website and announced by email.

Keynote Address: Mr. Andrew Gordon, CEO & Founder of Diversity Abroad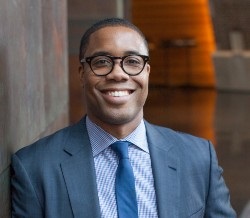 Andrew Gordon is a social entrepreneur and CEO & Founder of Diversity Abroad. With a passion for student success, international education and social entrepreneurship, he founded Diversity Abroad in 2006 with a simple vision, that the next generation of young people from diverse and underrepresented backgrounds are equipped with the skills, knowledge and global acumen to thrive in the 21st century interconnected world and competitive workforce.
As the chief national advocate for student success through equitable access to global education, Andrew speaks and writes extensively on such topics. He has consulted colleges & universities, companies, and government agencies on developing strategies for increasing participation among diverse students in global education and leveraging international programs to support student's academic success, interpersonal growth and career readiness.

Andrew is fluent in Spanish and Portuguese and proficient in French. He is a graduate of the University of San Francisco and has studied, worked and traveled to over 51 countries.


Conference Hotel:
Courtyard by Marriott - Pigeon Forge
120 Community Center Drive
Pigeon Forge, TN 37863
Phone: 865-366-3201

Conference attendees must call the phone number above to make a reservation under the TnCIS Group block for a rate of $120.00 + tax for the night of 11/7/19. This room block is available through October 23rd, but rooms are limited. If guests wish to add an additional night to their reservation for 11/8/19 the hotel is providing a special discounted rate of $170.00 + tax. Please note: The additional night is not required for participants of the conference and would therefore not be covered as a conference expense for reimbursement by your home institution on a travel claim. This is a courtesy for conference participants to enjoy the Pigeon Forge / Smokey Mountains area if they choose to stay for additional time.
All conference breakout sessions will take place at the
Walters State Community College Sevier County
campus on Friday, November 8th. A draft of the conference program will be posted on this webpage in September.